The Columbia School of Social Work Action Lab for Social Justice is an exploratory,
student-driven center that aims to uproot systems of oppression and create conditions of love, care, and liberation in social work practice and academia. The Action Lab provides a space where faculty, staff, students, and community members can build community and break down the silos that so often plague academic institutions and impede change. It also provides a platform for community members to challenge the institution to be more conscious of its inequitable practices to demand better for students, employees, and the surrounding Harlem and NYC community. We simultaneously seek to challenge ourselves to critically assess our positionalities in order to continuously confront our biases. It is this internal and external work that allows us to espouse the values on which the lab is founded and to center the voices of minoritized and marginalized people.  

The Action Lab was created in June 2020 in response to George Floyd's murder,
ongoing police brutality against Black and Brown people, and widespread frustration with how little society has progressed in abolishing anti-Black racism. The first two initiatives to be incorporated into the lab were the Action for Black Lives initiative and the COVID-19 Action initiative, which had existed since March 2020. Since the Summer of 2020, students of the lab continue to mobilize additional initiatives including:
Civic Engagement -  a group that educates the CSSW community on local policies and politics

Defund the Police - a group that advocates for an end to carceral systems

Ebony Tower - a racial justice podcast 

Environmental Justice - a group that promotes the care of people and land

Oral History - a group that archives student activism 

Research & Writing - a group that reviews and produces academic work that centers liberatory frameworks

Social Media - a group that educates and connects our communities

Umoja Circles - a group that provides emotional support to Black members of the Harlem community

Reproductive Justice - a group dedicated to incorporating reproductive justice into social work practice

Other forthcoming groups include a disability justice initiative. If you would like to propose an initiative of your own, please email [email protected].  
All initiatives strive to encompass a three-pronged approach of education, practice and research through anti-racist and anti-oppressive lenses. We invite members of the CSSW community of faculty, staff, and students to jump in and help us achieve our mission through other causes and initiatives through our Collaborative Action Hub. We also welcome members of the broader community to partner with us.
Umoja Circles
There's a lot to process these days. To all members of the communities in New York that identify as Black and as part of the African diaspora, we invite you to our Umoja Circles, a place for expressing emotions through free, remote group sessions with a trained practitioner of color.
We hope that by using this remote service in this unprecedented time that you will find a safe space and supportive community to process together.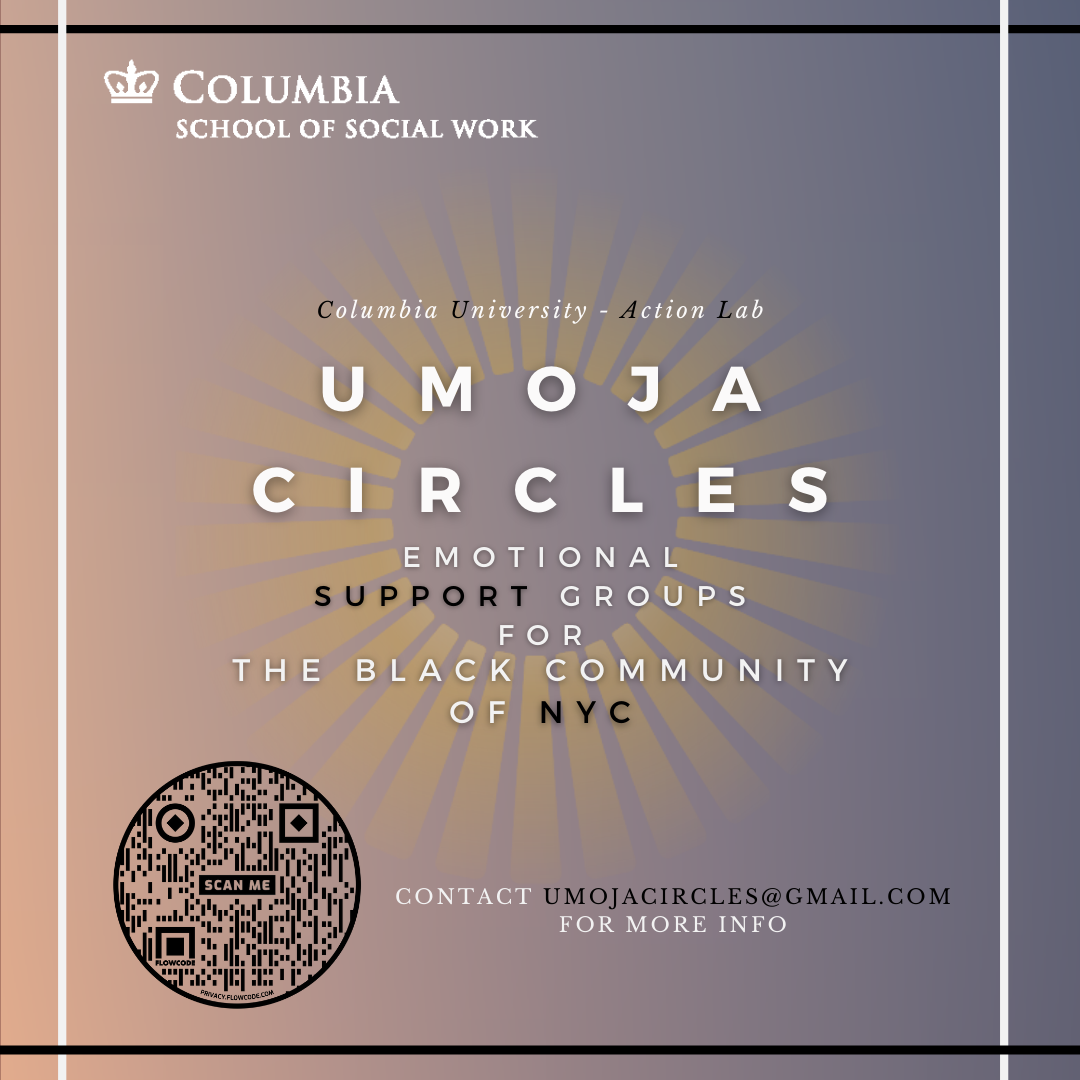 COVID-19 Action
CSSW community members - think you have skills to contribute to communities in need given the pandemic? Find out how you can help.